How does it sound if you are caught red handed while copying in examination hall, you are presented in front of school principal and you say – you don't have faith in principal?
What if you are caught in a sexual harassment act (red handed!) and when reported to HR of your company, you say – you don't have any faith in HR system?
Now don't take it personal. I know you didn't copy in your school and you are not involved in any sexual harassment case.
However, something even more surprising is coming out from the drama being conducted at Bombay High Court where Ajmal Kasab is being procecuted.
After killing 3 senior officers, after killing hundreds of common men like you and me, after spraying bullet on innocent lives walking on the road, after holding entire nation on ransom for 3 days, after conducting one of the most gruesome terror attack ever in this nation, after Mr. Kasab Ajmal made an astonishing statement – That he does not have any faith in Indian judiciary. He wants his case to be transferred to an international court.
Taken from Rediff.com on 12 October 2009
I have no faith in Indian court, says Kasab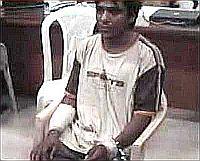 After facing trial in the Mumbai attack case for nearly six months, the lone surviving Pakistani gunman Ajmal Kasab on Monday said he had 'no faith' in Indian court and made a dramatic plea for transfer of the case to an international court.
But Judge M L Tahaliyani rejected 22-year-old Kasab's plea saying, "It is misconceived."
"I have no faith in Indian court and this case may be transferred to an International court," Kasab said in an application to the court. He had moved the application written in his own hand in Urdu. The application was filed through jail authorities who translated it into Marathi and produced before the court...
Now I am at loss of words. Hmmm…combined with loss of expression. Or say, I have too many expressions that I can't decide which one to bring out.
We know we have this judiciary system in place which we should follow to bring anyone to justice. But isn't it going too far? Isn't it competing with Ekta Kapoor's drama cum farce? Should such plea even be allowed to come for hearing in court?
Mr. Ajmal Kasab – if you do not have faith in Indian judiciary, then you should have committed your crime in a country, where you have faith in their Judiciary. May be Afghanistan?
Go to hell Mr. Kasab. I am sure you will have faith in judiciary system being followed in hell. At least nobody will entertain your plea there.
WTF.
What do you say?

© Except picture and excerpt from Rediff.com, all rights reserved with Mihir Rawal. To re-print or re-use, prior permission is required from the author.